Garmin microSD™/SD™ card: VUS030R-Southeast Caribbean
Special Price
€353.14
Regular Price
€353.98
Premier Coastal Charts
Provides exceptional coverage, clarity and detail with coastal charts that feature integrated Garmin and Navionics® data
Auto Guidance¹ technology calculates a route using your desired depth and overhead clearance and provides a suggested path to follow
Certain areas offer high-resolution relief shading, which combines color and shadow to give you an easy-to-interpret, clearer view of bottom structure
Includes depth range shading for up to 10 depth ranges, enabling you to view your target depth at a glance
Up to 1' contours provide a more accurate depiction of the bottom structure for improved fishing charts
To give a clear picture of shallow waters to avoid, the Shallow Water Shading allows for shading at a user-defined depth
Experience unparalleled coverage and brilliant detail when you're on the water with charts that feature integrated Navionics® data, Auto Guidance technology¹ and more.
NOAA Raster Cartography
For those who appreciate the familiar look of paper charts, raster cartography2 of NOAA-surveyed areas can be downloaded for free via the ActiveCaptain® app to display on your chartplotter, including individual points of interest labeled with corresponding longitude and latitude information.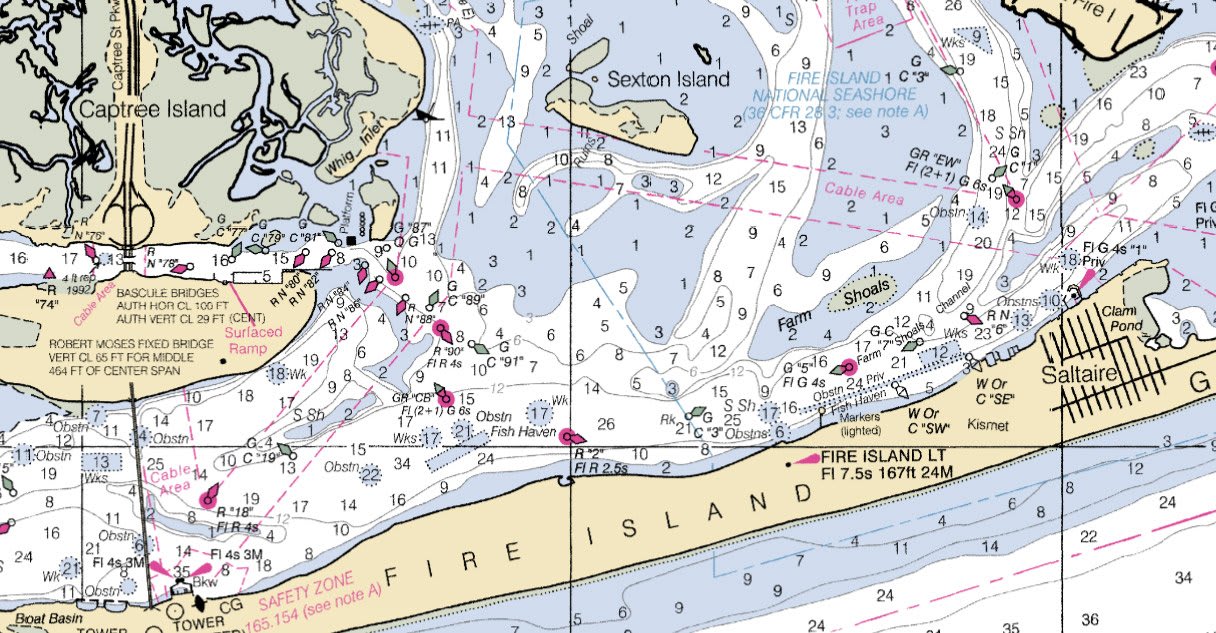 Auto Guidance Technology
Whether you are fishing or cruising, select a spot, and get a route showing you the general path and nearby obstructions at a safe depth1.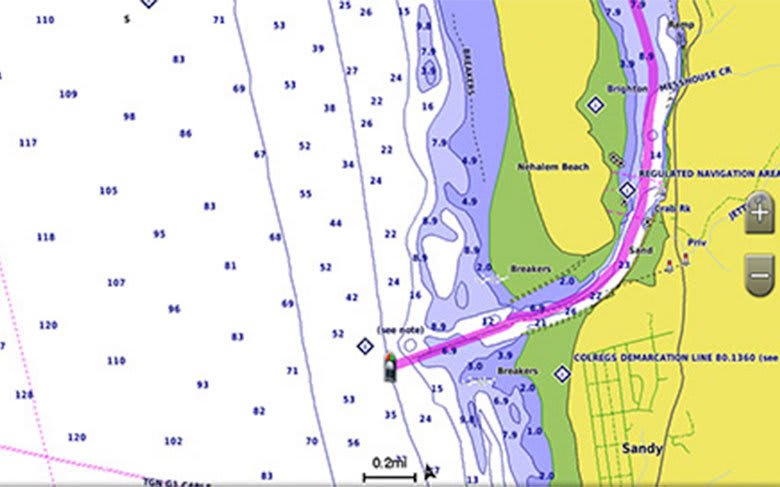 High-resolution Relief Shading
With 100% coverage of the continental U.S. coastline, this exceptional shading feature combines color and shadow to give you an easy-to-interpret view of bottom profile, making it easy to find artificial reefs, underwater shelves and more.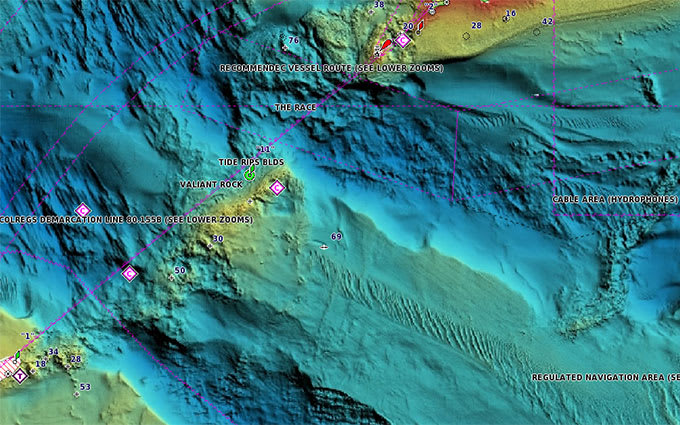 Depth Range Shading
This feature displays high-resolution depth range shading for up to 10 depth ranges so you can view your designated target depth.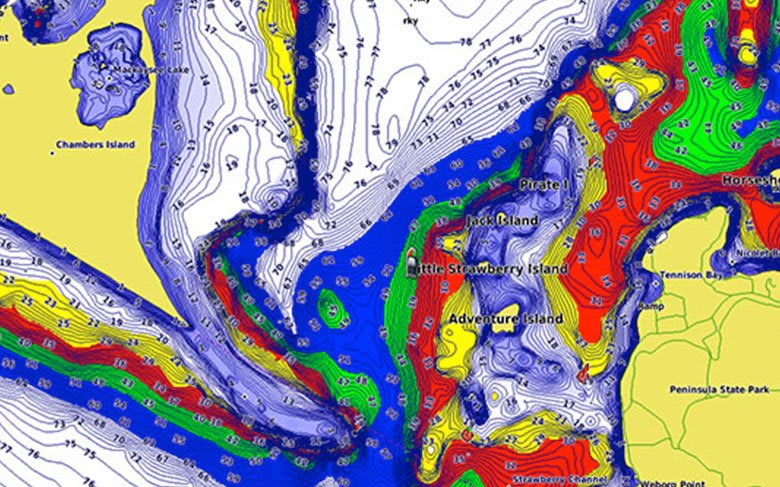 Detailed Contours
BlueChart g3 Vision charts feature 1' contours that provide a more accurate depiction of bottom structure for improved fishing charts and enhanced detail in swamps, canals and port plans.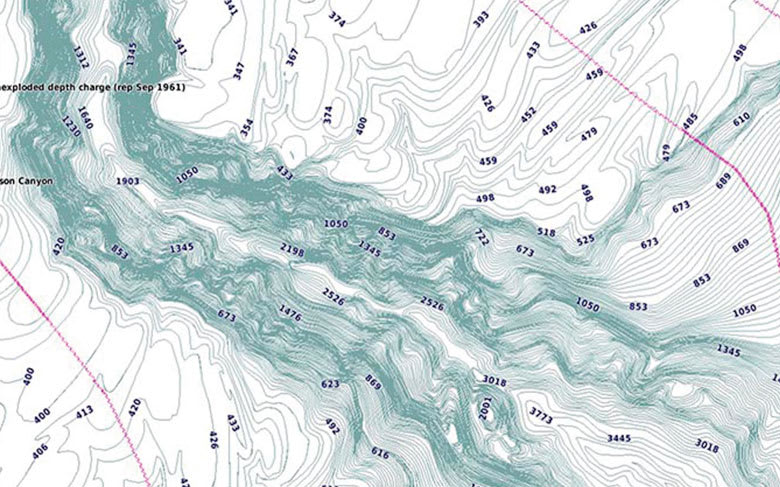 Shallow Water Shading
To aid in navigation, Shallow Water Shading allows map shading at a user-defined depth to give a clear picture of shallow waters.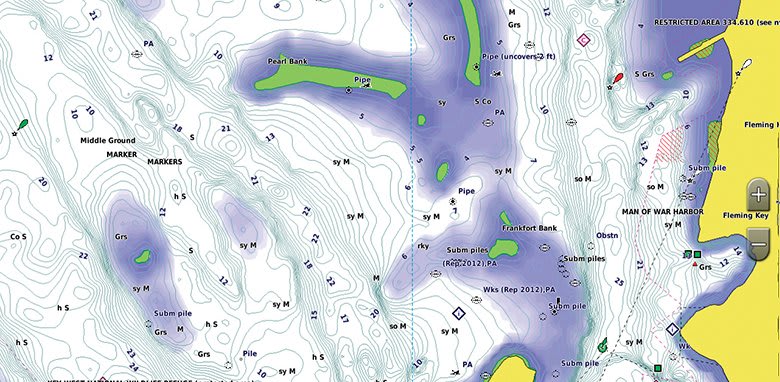 High-resolution Satellite Imagery
High-resolution satellite imagery with navigational charts overlaid gives you a realistic view of your surroundings. It's our most realistic charting display in a chartplotter — ideal for entering unfamiliar harbors or ports.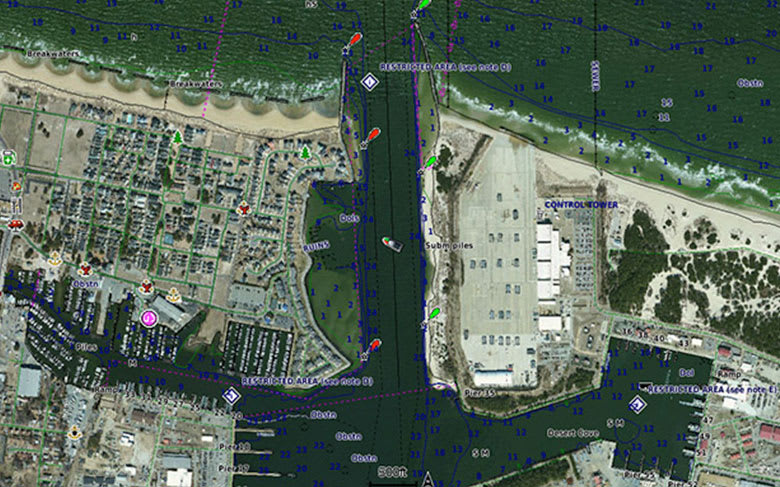 FishEye View
This underwater perspective shows 3-D representation of bottom and contours as seen from below the waterline. Interface with sonar data for a customized view.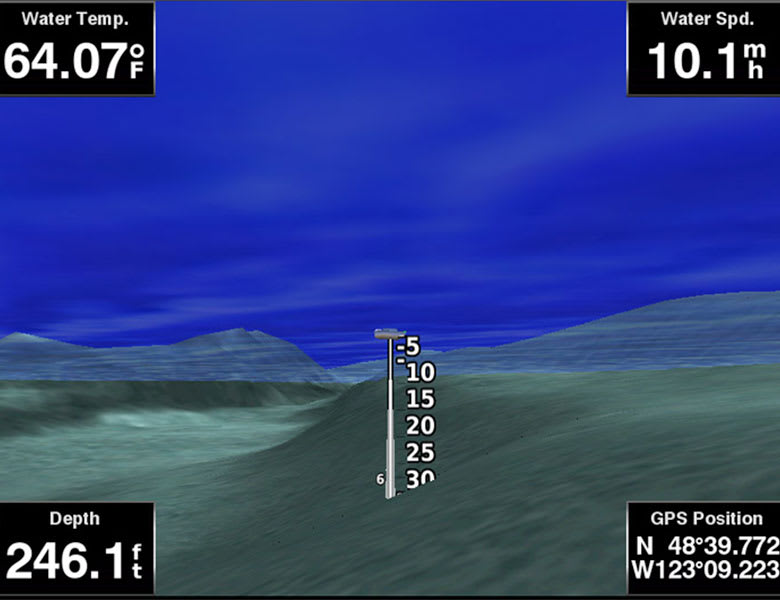 MarinerEye View
This view provides a 3-D representation of the surrounding area both above and below the waterline.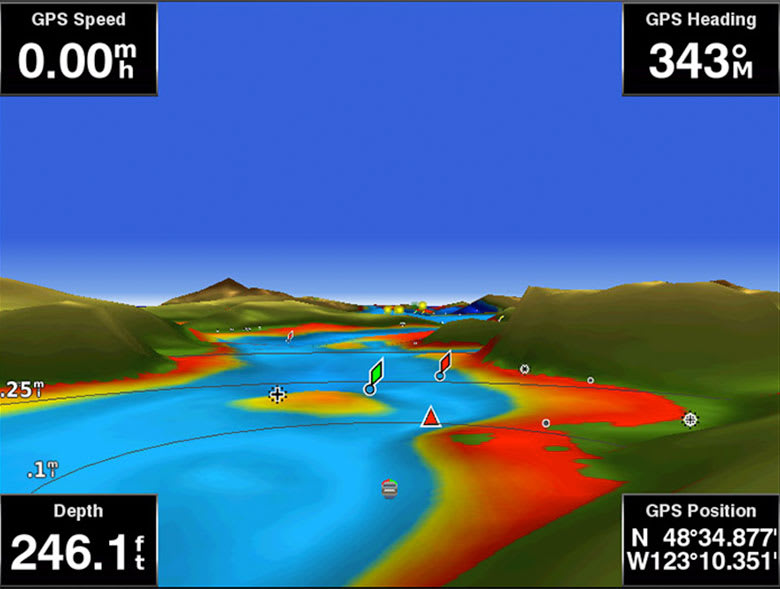 Aerial Photography
Crystal-clear aerial photography shows exceptional detail of many ports, harbors and marinas and is ideal when entering unfamiliar ports.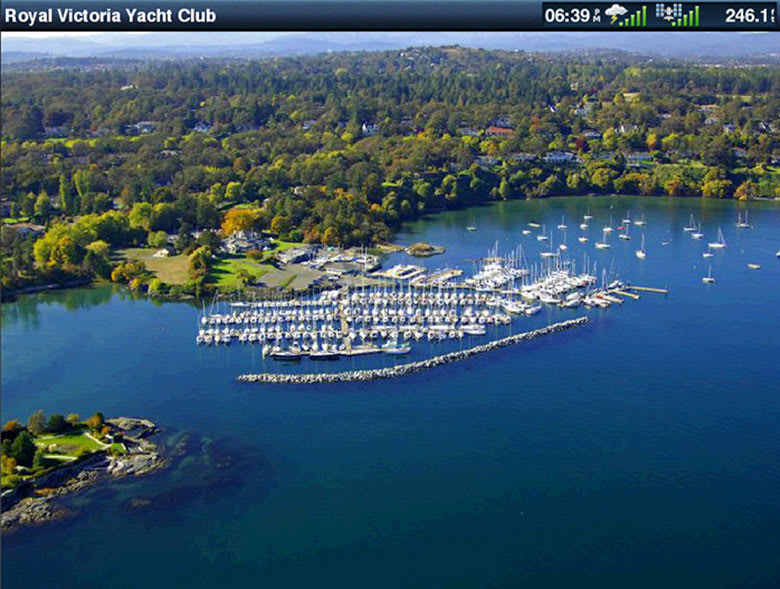 ¹Auto Guidance is for planning purposes only and does not replace safe navigation practices. Auto Guidance is not included in preloaded BlueChart g3 for ECHOMAP™ Plus series chartplotters2Raster cartography cannot be viewed on echoMAP CHIRP and ECHOMAP Plus combos but can be viewed on mobile devices via the ActiveCaptain mobile app